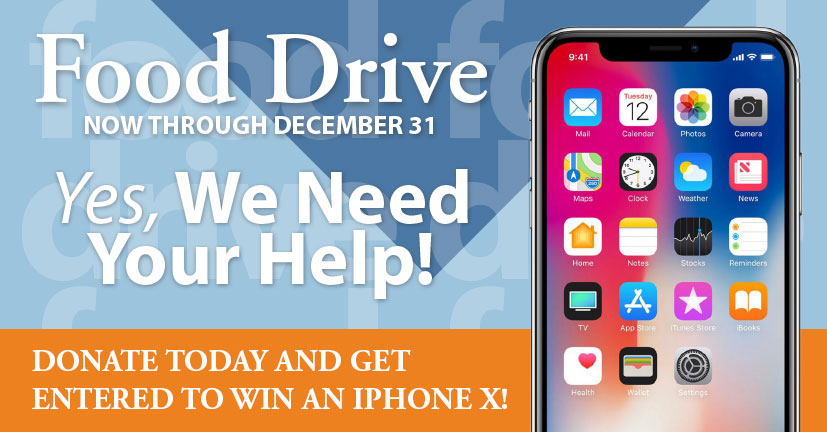 What is needed:
Any non-perishable food items, Juice and drink mix, peanut butter, powdered milk, tomato/pasta sauce, hot or cold cereals, canned fruits, rice, pasta and beans, canned vegetables. 
Drop off locations:
Simply bring your non-perishable food to any of our convenient banking locations:
Main Street Offices

Elmhurst Plaza
210 Bypass
East Main Drive-Thru Location
iPhone X Giveaway Details
To get entered for the iPhone X drawing bring in 5 or more cans/non-perishable food products to any of our locations. For every 5 cans donated an additional chance will be entered. (Ex. 15 cans = 3 entries) Donations must be dropped off by December 31, 2017 to be eligible to win.

All food items will be donated to the Taylor County Food Pantry. No purchase necessary.

---------------------------------




Official Citizens Bank Food Pantry iPhone X Giveaway Rules


 


PRIZE: The prizes awarded to the randomly selected winners will be an Apple iPhone X. One (1) winner will receive an iPhone X (64 GB model). Any prize notification or prize that is returned as undeliverable will be awarded to an alternate winner. The winner accepting the prize agrees that the prize is awarded on the condition that Citizens Bank, and its agents, representatives, affiliates and employees will have no liability whatsoever for any injuries, losses or damages of any kind resulting from acceptance, passion or use of prizes. Winners may not make any substitutions or transfers of any prize.


 


LIMIT ON ENTRIES: There is no limit to how many times one can enter. All eligible registrants will be entered to win Citizens Bank's iPhone X Giveaway. Citizens Bank is not responsible for any problems or technical malfunction of any telephone network or lines, computer online systems, servers or providers, computer equipment, software, failure of any email or entry to be received by Citizens Bank on account of technical problems or traffic congestion on the Internet or at any website, or any combined thereof, including injury or damage to registrants' or any other person's computer related to or resulting from participation or downloading any materials in the Giveaway.


 


ENTRIES: Enter by bringing 5 non-perishable food items to any of our Citizens Bank branch locations. For each 5 non-perishable items donated one (1) entry will be submitted. Or enter by mail (on a postcard only) by printing (by hand, no mechanical reproductions accepted) your full name, email, street address and mail your completed entry to Citizens Bank iPhone X Giveaway, 201 East Main Street, Campbellsville, KY 42718. Entries must be filled out legibly, if entry is determined to be illegible, the form will be disqualified and an alternate entry will be drawn. A person is only eligible to win one time in any twelve (12) month period.


 


ENTRY PERIOD: Entries will be deemed made by the authorized registrant named at the phone number and/or email address submitted at the time of entry. Winners may be requested to provide Citizens Bank, with proof that the potential winner is the authorized registrant named on the entry form. Citizens Bank reserves the right, at its sole discretion, to disqualify any individual; who corrupts or affects the administration, security, fairness, integrity or proper conduct of the giveaway at anytime, without prior notice. Citizens Bank assumes no responsibility for any error, omission, interruption, deletion, defect, delay in operation or transmission, communications line failure, theft or destruction or unauthorized access to, or alteration of, entries.


 


ELIGIBILITY: Open to legal residents of Kentucky and Citizens Bank account holders, except employees and their immediate families, affiliates and subsidiaries. You must be 18 years of age or older at the time of the Giveaway drawing to win. Winners may be required to submit a signed affidavit certifying their eligibility within 30 days of notification. Failure to submit a properly completed affidavit may result in selection of an alternate winner. 


 


NO PURCHASE NECESSARY TO ENTER: If you do not wish to donate 5 non-perishable food items, you may still participate in the Giveaway by sending a 3x5 postcard to Citizens Bank, see Entry section below. 


 


NO LIABILITY: By completing and submitting a registration for Citizens Bank's iPhone X Giveaway, the registrant agrees to abide by the terms of these official rules and the decisions of Citizens Bank, which are final and binding on all matters pertaining to the Giveaway. All entries become the property of Citizens Bank and will not be returned. Except where prohibited by law, the winners consent to the use of their name and entry (with the exception of the winner's contact information, including telephone number and email address) in any manner by Citizens Bank and its advertising and promotions without further compensation. Citizens Bank and its affiliates shall not be responsible for any damages, taxes or expenses that any winner might incur as a result of the Citizens Bank iPhone X Giveaway or receipt of the prize.


 


DRAWING: The random drawings will occur on January 2, 2018. The winner will be selected from all eligible registrants. Winner will be contacted directly using the information they've provided on their entry within 15 business days. The odds of winning depend on the number of eligible entries received and submitted in accordance with the rules. The winner must claim the prize within 30 days or the prize will be forfeited and awarded to an alternate winner. Citizens Bank reserves the right to substitute a comparable prize, if a prize becomes unavailable. The Citizens Bank iPhone X Giveaway starts on 11/28/2017 and ends 12/31/2017. The sponsor of this Giveaway is Citizens Bank, 201 East Main Street, Campbellsville, KY 42718. By participating in the giveaway, each entrant unconditionally accepts and agrees to comply with and abide by these Official Rules and the decisions of Citizens Bank, which shall be final and binding in all respects. To receive the name of the winner, send a self-addressed, stamped envelope to Citizens Bank, 201 East Main Street, Campbellsville, KY 42718.


 


Prize Approximate Retail Value and tax reporting. iPhone X (64 GB) approximate value is $999.00 each. Citizens Bank will report all prize winnings to the appropriate state and federal agencies as required by applicable law. All federal, state and local taxes are the sole responsibility of the winner.


 


All federal, state and local laws and regulations apply. Void where prohibited by law.


 


CAUTION: ANY ATTEMPT BY A REGISTRANT TO DELIBERATELY DAMAGE OR UNDERMINE THE LEGITIMATE OPERATION OF THE GIVEAWAY IS A VIOLATION OF CRIMINAL AND CIVIL LAWS, AND SHOULD SUCH AN ATTEMPT BE MADE, CITIZENS BANK, RESERVES THE RIGHT TO SEEK DAMAGES TO THE EXTENT PERMITTED BY LAW.