NEW!
Seamless Account-Update Process
The VISA Account Updater (VAU) Program delivers a seamless account-update process between Citizens Bank and the participating merchants linked to your Citizens Bank Visa debit card. When information changes on your account, VAU will update all of the participating merchants with whom you have ongoing relationships, requiring no direct action on your part.
Learn more
about VAU.
Pay for anything and get cash anytime, anywhere.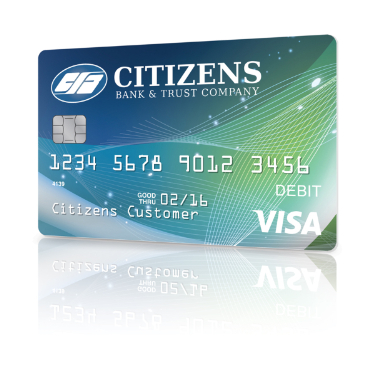 The money for every purchase you make comes directly from your checking account. So there's never a bill or interest to pay later.
It's a faster, easier way to pay for virtually anything. You never have to hassle with writing checks or carrying around a lot of cash. Just pay with your Citizens Express Debit Card at millions of places worldwide, anywhere VISA is accepted. You can use it for practically anything, including:

Groceries

Movie tickets

Gas

Online Purchases

Phone Orders

Shopping
To apply for your free debit card, stop by any of our convenient locations and complete a very short application.
---


Store your Citizens Express Visa debit card on your mobile devices
Apple Pay

Google Pay

Samsung Pay

---
Instant Express Debit Cards
Need a debit card? Simply visit our Main Office on Main Street and we will make one for you on the spot! 

It's inconvenient to be without your debit card for even a few days. That's why we're introducing instant issue debit card replacement. No waiting for the mail. No calling to activate. No worries!
Receive a card the same day you visit our Main Office

Low cost, convenient service

Saves time and no waiting on the mail

Start making purchases right away

Embossed numbers and lettering

Citizens Bank branded

$10 replacement fee for new instant issue cards
For more information about instant issue cards, call us today at 270-465-8193.
---
EMV/Chip Card Information

Activate your card and enjoy the advantages! 

Added Security - Your security is important to us. The chip gives you an extra layer of protection, making your debit card extremely difficult to counterfeit when used at chip-enabled terminals.
Accepted in the U.S. - As chip technology becomes the standard in the U.S., you'll see chip-enabled terminals coming to stores nationwide. For now, you can continue to swipe your card as usual, and you will be ready to use your new cards at the new terminals.
No extra cost - Enjoy your new Citizens Express Debit Card, with chip technology, at no additional cost.
Using your new chip card is easy
Step 1 - Insert your card face up in a chip-enabled terminal and follow the prompts. The chip card will remain inserted while the transaction is processed.
Step 2 - Sign as you normally would to verify the transaction.
Step 3 - Remove your card from the chip terminal once your transaction is complete.
---
If you need to contact the bank about your debit card please call:
During Business Hours: 270-465-8193
After Hours: 800-472-3272