Your Convenient Way to Pay: Apple Pay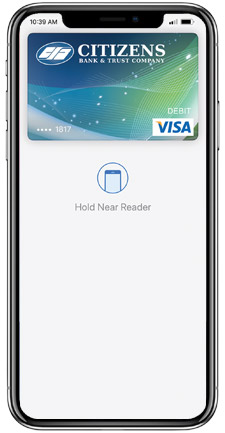 At Citizens Bank, we take pride in offering you innovative ways to access your money. We are pleased to provide some of the latest mobile payment solutions such as Apple Pay™. 
Apple Pay is a convenient new way to pay with your Citizens Express debit card. Apple Pay simplifies the way you shop by adding your Citizens Express debit card to the Wallet app on your iPhone (requires iOS 11.1 or later). Reaching for your wallet is a thing of the past with Apple Pay and now you can shop at many of your favorite retailers with just the touch of your finger. 
Where you can use Apple Pay 
Apple Pay is available in merchant apps and at more than 220,000 stores and restaurants - and more in the near future.
Is it safe?
Apple Pay assigns, encrypts and securely stores a unique Device Account Number on your iPhone. When you make a purchase, that number—along with a transaction-specific dynamic security code—is used to process your payment. Your debit numbers are never shared with merchants or transmitted with payment and your name, card number and security code remain confidential because cashiers no longer need to see or handle your card.
Learn more
Don't have a Citizens Bank debit card? Learn more

Apple, the Apple logo, iPhone, iPad and Passbook are trademarks of Apple Inc., registered in the U.S. and other countries. Apple Pay and Touch ID are trademarks of Apple Inc.