Convenient and affordable checking that's right for many small businesses. 
If your business has limited checking needs and typically processes less than 150 items per month, this account may be right for you.
Features & Benefits
A low, fixed monthly maintenance fee.

No minimum balance requirement.

Accessible. You can do your banking in several ways.

Free ExpressNet Online Banking Service. Our Online Banking Service allows you to review account balances and transactions, and transfer funds between your linked Citizens Bank accounts 24 hours a day, 7 days a week.

Business Citizens Express Visa Debit Card. Use the debit card to make purchases, withdrawals, deposits and transfers from your business checking.

ATM and banking centers. Find an ATM or banking center close to you.

Treasury Tax & Loan payment processing by automatic ACH.
Prices & Fees:
There is a low monthly maintenance fee of $5.00. If you are a Sole Proprietorship or a Non-Profit Organization, interest-earning options are available.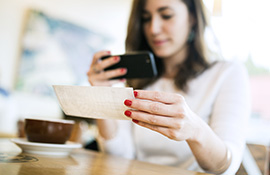 Mortgages made easy.
Apply for a mortgage or refinance from the comfort of your home today.