Join the club that has all the great features you'd expect from a checking account offering protection that gives you a peace of mind.
Minimum opening deposit - $100.00

No minimum balance required

Monthly fee • $5.00 (individual); $7.00 (family)

Security Benefits - Learn More
Insurance Benefits - Learn More
Shopping Benefits - Learn More
Travel & Entertainment Benefits - Learn More
Health Benefits - Learn More
Free personalized checks (2 boxes) (Cannot be ordered online to receive free checks - Please call or visit the any of our convenient locations to reorder)

Unlimited transactions

---
Accessing your benefits has never been easier!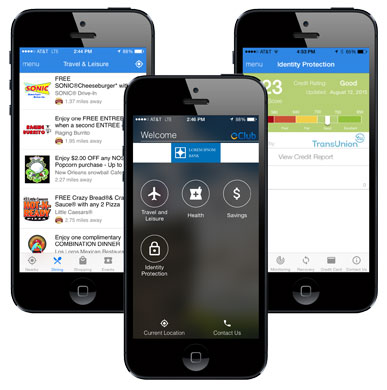 With the eClub mobile app you have access to discounts, savings and even your credit report and credit alerts.

eClub App Features:
Find savings and discounts from businesses near your current location, including map and directions
Mobile coupons to immediately enjoy savings at your favorite retail locations
Convenient access to your "Favorite Deals"
View credit report and score and have immediate access to credit alerts
Connect to dedicated fraud specialist in the event you have suffered an identity fraud incident
Report lost/stolen credit or debit cards 24/7
Access to information related to other eClub benefits
Select the appropriate icon below ("App Store" or "Google Play") to download the app to your mobile device. You will need to sign in with your iTunes or Google Play account and download. The app will then appear in your available downloads on your device.